Analytics Adoption in Retail Segment
3AI October 7, 2020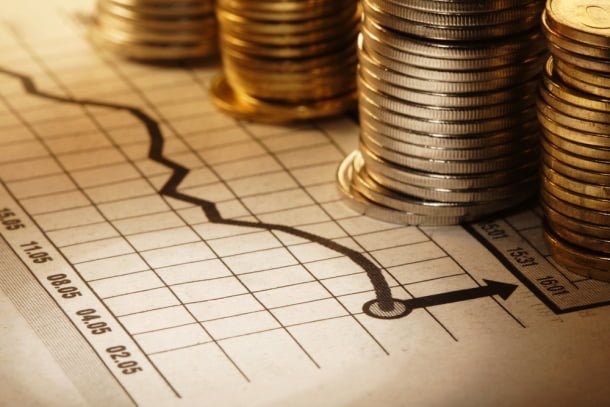 We're undergoing a radical retail revolution, and those who'll fail to keep pace with the winds of change shall perish. In today's omni channel world, retailers must be absolutely committed to giving customers anything, anywhere access. Customer has to be the fulcrum or core to every decision being made in the organization, at any level. We can no more just look at individual channels – today it's about managing customer experience across all channels, with consistency, agility and ease at all the times. Retailers' mobile apps units have to closely work with the store folks to deliver that consistent offline-online experience– and that's where the opportunity is. What truly sets apart today's high-flying outliers — such as Apple, Google, Amazon, Netflix and Pandora — from fast-followers and wannabes is their ability to disrupt markets in ways unimagined, by capturing customer insight and make meaning from the data deluge encircling us all. The new basis of customer relationships is driven by customer-centric insights— harnessing relevant information from consumer data— creating an enriched customer experience. We are in the early days of a retail transformation in which organizations' future and market value, all is governed by how the data surrounding employees, customers, vendors, operational processes, Online/offline services and products interact with each other. A powerful shift in business, technology and commerce has only just begun, and the time to act, to rehash business is now. Some of the emerging retail themes in today's data-driven economy are:
Channel Orchestration
Customer Ubiquity – Social, Digital & Mobile and making sense of it through Big Data
Customer Centricity – Localization & Hyper-localization

Consumers are coming to traditional brick and mortar stores to have a look and feel of product and then purchase it elsewhere at a better price using online channels (Mobile Showrooming)
There is an inherent need to understand individual customer needs from past browsing/purchase history and make personalized offers , campaigns and product recommendations
Merchandising, Store clustering, Customer profiling heavily rely on how able the organization is at assimilating data & applying contemporary analytics

Multi-dimensional CRM – Omni channel emerging as a new Retail Business Model

Consumers are interacting with Retailers through multiple channels
Consumers are empowered with cutting edge technology, access to information and social media
Consumers are expecting seamless experience across brands

Driving Operational Efficiency through Supply Chain Transformation
Todays "Omnichannel" consumers are empowered with cutting edge technology, access to information and ability to influence other consumers than ever before. They are interacting with brands through multiple channels and expects a consistent experience throughout irrespective of the channel – Omnichannel Retailing is about meeting that expectation of the Omnichannel consumer. To better explain what Omni-channel Retailing means, let me take a quick example. Imagine a lady Linda in mid-30's, working for a Bank, jogs every morning to keep herself fit, and likes running shoes. Take a situation where she needs to buy a new pair of running shoes of her favorite brand. 10 years ago, Linda would have gone to the nearest outlet on the way home from the office, would have sifted through available shoe assortment, & eventually picked one which fits in well as per her needs. Probably if this would have happened 5 years ago, Linda would have logged on to retailer website, browsed through available shoe assortment, purchased one online. But today, Linda logs on to retailer website through smartphone on the way home, browses through available shoe assortment, selects one, goes to store to have a look and feel, purchases it if she likes it. Linda also would have posted comments about the product and her shopping experience on twitter/facebook. We are in an ever-connected world !
Just to help my readers understand the difference between Multi-channel vs Omni-channel retailing:
In Multi-channel:
Retailer offers multiple channels like store, ecommerce, tele-sales etc
One Customer interacts through one channel mostly
Customer has limited access to information about the brand
Customer has less influencing power on other customers
In Omni-channel:
Retailer offers multiple channels like store, ecommerce, tele-sales, mobile sales etc
One Customer interacts with a brand through multiple channels and expects to have a consistent experience irrespective of channel
Customer has access to loads of information about the brand
Customer has high influencing power on other customers through social media
Creating personalized customer experience is all about understanding the inherent preference insights of an individual and tailoring organizational actions, decisions, investments etc. based on that. Since Linda visits the website of the footwear retailer frequently, the retailer has her browsing history and purchase history. Retailer can analyze that data and as soon as Linda logs on, he can dole out some personalized offers and product recommendations just for Linda. If executed well, this creates an enriched customer experience and more likely to lead to repeat sales, increased customer loyalty and positive influence on other consumers through social media.
As a real-world example, Disney launched Magic Band bracelets to help guide visitors through its amusement parks, manage ticketing, act as room keys, personalize the guest experience and even work as a portable bank. The Magic Band has the ability to transform a day at a Disney park from a one-size-fits-all experience to a highly personalized one. Amazon.com knows enough about you from previous contacts, purchase history, and other sources to structure special offers and purchase recommendations well suited to your tastes. Amazon uses collaborative filtering to determine what music or books to recommend.
Analytics can truly be the game-changer in delivering those hyper-personalized experiences and the same can act has high barriers to entry for a sustainable differentiation from the marketplace. Analytics can:
Create a more complete view of the customer: Integrate all online and offline interactions of the customer across all channels to generate a complete view of the customer
Design relevant targeted campaigns: Identify the most significant business drivers for campaign response and run goal-seeking routines to determine optimal levels needed
Deliver personalized offers in Real time: Real-time, dynamic data collection strategy enables rapid transformation of the data into customer-focused insight that leading to real-time personalized offers, enriching the customer experience
Decipher Customer Sentiment: Analyze social media & other digital data(blogs, surveys using text mining to generate insights about customer sentiment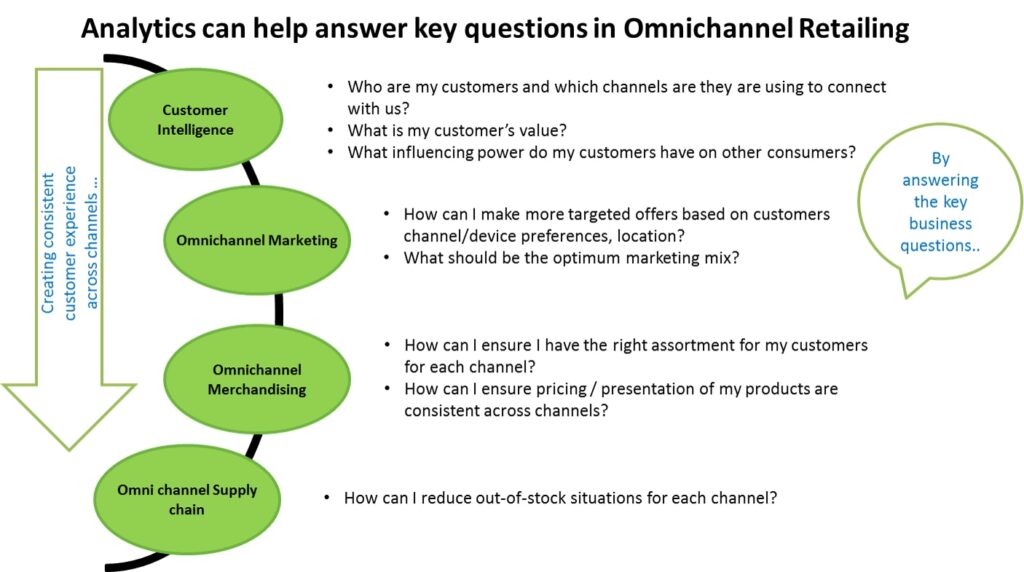 Analytics in a Retail or Consumer Goods or Packaged Goods has lots more to offer than what meets the eye. It can help companies to answer what happened, why did it happen and predict what is going to happen. From a hindsight perspective, business get a holistic view of business performance by presenting historical data in an easy-to-analyze manner. Questions like "What happened? How did it happen?" get answered using BI, Reports, Slice & Dice, Drill-downs, Dashboards etc. Next phase is Insight which focuses on uncovering hidden patterns & trends to gain better understanding of business drivers. Questions like "Why did it happen? What caused it? What can be done?" can be answered using trending, cause & effect analysis, data mining, and affinity analysis. Last is the most crucial piece which aids business decision making and reducing uncertainties by building predictive models. Questions like "What will happen? What can happen? What will be the impact?" get answered typically using scenario modeling, econometric analysis, optimization etc.
Analytics can create impact across the Retail value chain, right from supply chain planning, to supply chain execution, to vendor merchandising, to sales & marketing, to retailer planning, merchandising, purchasing, distribution & store front. Following are some areas where Analytics has a substantial play.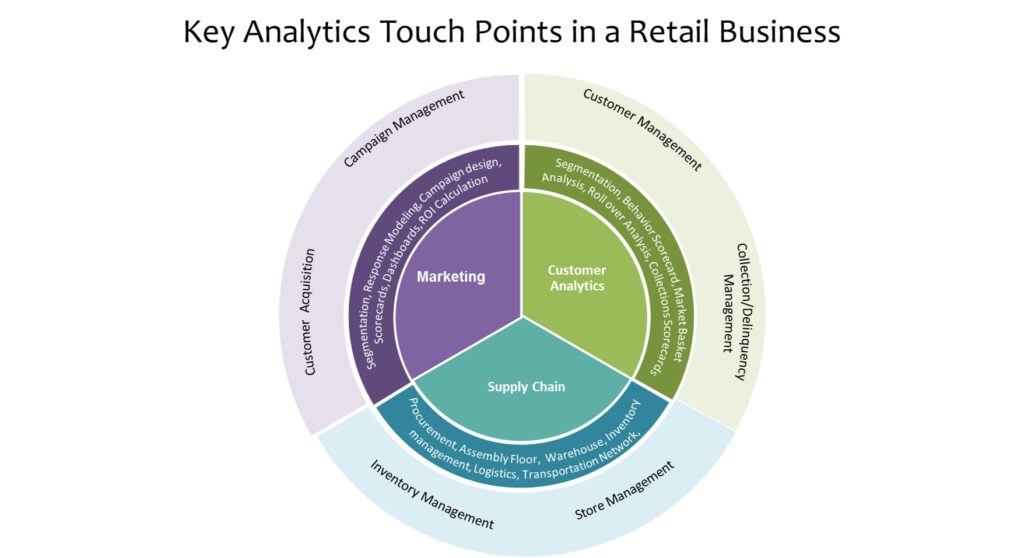 Campaign Management
Some of the key questions which retailers today are grappling with are "How to identify the right customer cluster?", "How to identify the right products and channel mix?", "How to design, execute and track campaigns, their effectiveness and ROI" and analytics helps in crafting targeted campaign marketing, enhances campaign conversions & ROI
Inventory Management
Most retailers still grapple with how to identify the inventory days for each product and what should be the procurement cycle. Analytics is the key to knowing the optimal inventory levels, avoid stockouts and enable cost savings through minimization of wastage.
Store Management
Retailers often question how do offer best products to customers, how do we increase the sales, or how to optimize between warehouse and stores. Analytics can help uncover fast moving products, design optimal trade promotion strategies and also design the network between warehouse, stores and manufacturing units or factories.
Collection/Delinquency Management
Perennially, retailers have been struggling with which customer is more likely to default, how to differentiate between types of delinquent customers, when to write off a delinquent customer. Analytics can aid taking right protective measures at the right time to improve bottom line and increase the collection efficiency thereby increasing recovery amount.
Customer Management
To bolster existing customer base and manage customers better, retailers generally try to get a perspective of who are the customers we approve of, who are prospects whom we chase, who are the one we avoid, how to retain high value customers, how do we enhance lifetime value of existing customers, how to identify cross-sell opportunities, how to build customer profile based on spend transaction data. Analytics helps identify high spend propensity customers & combines judgment with business rules for high value potentials. It can enhance retention and reduce attrition, improve profitability per account, and eventually help build a holistic customer view.