Analytics infusion in Digital Transformation Journey
3AI October 12, 2020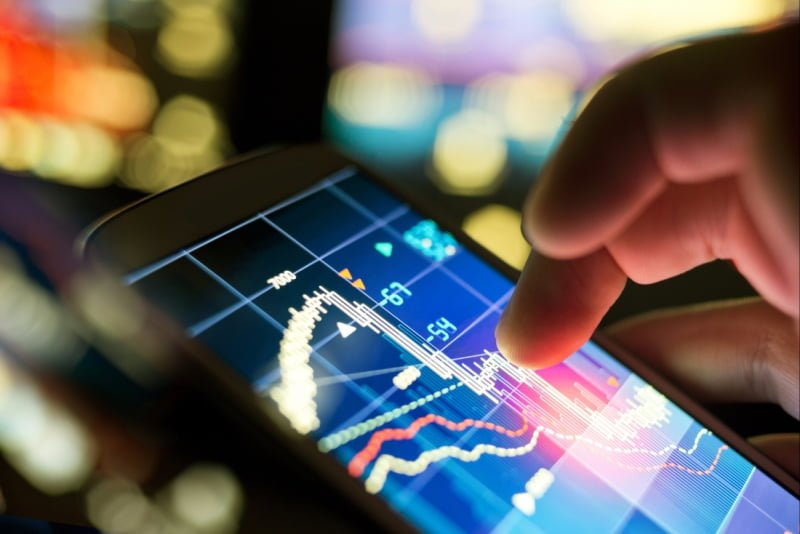 The digital technologies governing tremendous shifts in the marketplace aren't new, but they are being put to use very differently. Humungous amounts of information is accessible like never before—from proprietary data sitting within the organizations to new sources of open data made available to general public. The storage & computational capacities have grown by leaps and bounds, opening up doors to intelligent decision-making for varied business stakeholders, bridging the gap between reality and imagination. Faster data processing speeds allows us to now come closer to our dream of real-time analytics and delivering incisive, actionable insights to customers.
As these technologies start gaining traction in the marketplace, they are & will profoundly change the rules of the game: altering the definition of competing, the way businesses operate, and, ultimately, redefine performance metrics across industries. Statements like "the industry is in the midst of a transition that occurs once every 100 years" no more hold true & organizations need to mold themselves fast enough to stay relevant. To stay ahead of these unprecedented trends and disruptions, business honchos across industries will need to challenge their underlying assumptions of how business is done and put to test their prevailing strategies of winning in the marketplace.
In this hyper-competitive era, in order to win and retain customers in 2015 and beyond, companies need to reassess their competencies in using data and leverage advanced analytics to develop actionable insights. Employing data science and predictive analytics capabilities can help organizations synthesize data sources across multiple channels to better target the right customer with the right offer at the right time. Advanced segmentation strategies that help to identify niches based on consumer behavior will also significantly boost marketing effectiveness. Companies that deploy these techniques will accelerate past the rest of the pack in developing and deepening customer relationships.
Building a stronger customer experience can help businesses gain a deeper understanding of their customers to more effectively engage them, increasing retention and loyalty. This translates to a more profitable business and a heightened sense of fishing out the right customers. Before a company begins making improvements, the first step is to ensure that everyone understands the context and goals that will generate actionable insights. Customers see one company. They don't care if there are different divisions or departments that operate in silos. They want a seamless experience from one touch point to the next. To create a 360 degree view of the customers, companies need to primarily answer the following questions around customer behavior:
Who are our customers and how are we acquiring them?
This includes integrating all possible digital footprints for your customers across email/direct marketing, SEO/SEM, offline marketing & promotions, affiliate marketing, mobile, social et al. Key analysis which needs to be performed here is: Which channels are performing best? What keywords/advertising is optimal to attract customers to our sites? How are our customer performing? Who are our key customers by channels, demo, etc.?
What is the customer experience and key outcomes?
The intent here is to analyze the customer behavior once the interaction starts possibly over any channel. Questions to be answered here are: What are their key objectives of our customers (learn, buy, self-serve)? What are key outcomes expected? What are the conversion and abandonment rates? How much revenue are we generating? How do rate against our competition?
What is their post visit behavior?
Lastly post-interaction, it's critical to analyze the customer behavior to understand the stickiness & how often the customer comes back to the brand/company. Various facets associated with this are: loyalty, social/online/offline feedback, offline channel visits, net promoter score etc. Key questions what business needs to get answers to are: What % of our customers are coming back? What are customers saying about us in social media and on the internet? Are they promoting us? Are they visiting our stores? Let me now elaborate on some key aspects to launching a digital initiative with analytics embedded to the core for increased effectiveness & ROI.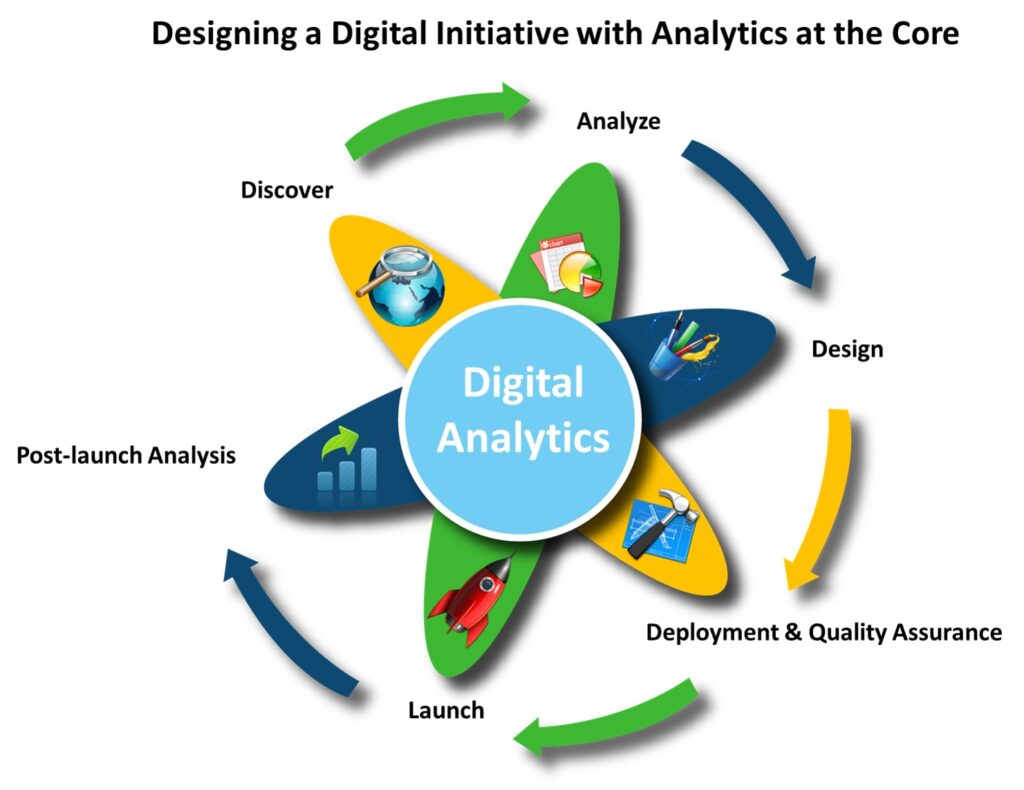 Discover Phase
Gathering the requisite inputs or requirements
Ensure strategic/tactical alignment with larger business objectives
Identify the right KPIs to measure efficacy of your digital initiative
Analyze Phase
Perform online engagement study
Do visitor behavior analysis and segmentation
Understand channel preference by performing traffic channel analysis
Conversion propensity
Do website assessment & optimization based on insights drawn
Online & offline data Integration for holistic insights
X-sell and Up-sell by creation 360˚ customer view
Design Phase
Design tags assuring accurate data capture, attributes and tags for generating custom reports
Design category definition file, DDX (tag manager) load rules
Deployment & Quality Assurance Phase
Implement tags & tag rules
Configure profiles, segments, user access, and attributes
Test for tag presence, tag rules enablement, data accuracy and data relevancy
For test reports, focus on the following aspects

Site Optimization (A/B, MVT)
Personalization and Targeting
User Acceptance Testing
Launch Phase
Move tag and tag rules to production
Check reports in the production environment for data relevancy
Configure dashboards for insight consumption
Initial handholding and training may be crucial here to help business uses to decipher & employ these insights
Post-launch Analysis Phase
Reports and Dashboards designing and broadcast to key stakeholders
Generate insights/foresights on content optimization through profiling and segmentation
Enable data-driven content personalization recommendation
Employ predictive analytics: Response Modeling, Buying Propensity, Customer Scoring to prioritize your digital efforts & ensure higher ROI
Instead of looking at the past and reacting to issues as they arise, topical analytics today uses all of the data available to predict how consumers are likely to respond. Once the data has been collected across CRM, social, mobile and regulatory sources, companies begin sorting the data to determine where the most valuable information lies. Analysts can characterize the data and provide preliminary assessments of how suitable each data source is to the desired goal. Also, traditionally, segmentation has been used to divide customers into groups based on their demographics, attitudes, or buying behaviors. This helps in trying to target specific groups with the message that will best resonate with them. Utilizing predictive analytics today, previously hidden patterns in the data help organizations generate more in-depth customer segments. The resulting segmentation is more precise and nuanced, and is ultimately based on the likelihood that a consumer will accept a given offer.
The result is a win-win situation, as customers are offered more relevant products and services, leading to a more profitable relationship for the organization. Beyond segmentation, there are several other ways that predictive analytics can positively impact success. Advanced analytics techniques can help companies leverage data for more profitable outcomes across the organization, including:
Identifying strategies to reduce attrition
Targeting improvements at key touch points to accelerate issue resolution
Increasing cross-sell rates with sophisticated customer segmentation
Boosting the value of your Voice of the Customer program.
Whatever be the priority objectives, recent advancements in analytics today can help organizations transform mountains of customer data into valuable insights that can make a powerful difference for both key customers and the business.