How Data & Analytics can be leveraged in executive search? – A case study
3AI March 15, 2023

Featured Article:

Author: Pavana B, CxSearch Global Partners
In today's fast paced business environment, hiring CXO's and other senior leadership talent is one of the most critical and difficult decisions companies must make. Hiring a C-level executive has a significant impact on the company's growth and vision, regardless of size. Due to the limited availability of candidates with the necessary skill sets and personas to lead and build the organization, a well-planned and executed recruitment process is critical.
Executive search consultants play an important role in assisting organizations in finding and recruiting the best leaders to help them achieve their strategic goals. Throughout the search process, a large amount of data is collected through mapping sheets, records of interactions, proprietary databases, assessments, interactions with clients, potential candidates, industry peers, and feedback.
When analyzed, this data can provide a wealth of insights into trends; assist in identifying best-suited candidates, their skills and attributes, best sourcing channels, information on potential roadblocks to optimize the search process, and so on. Using data and analytics to make better decisions and improve the efficiency and effectiveness of their search process is becoming increasingly important for executive search consultants.
Can Data Science replace the skills of a search consultant?
No!! Due to the complexity of the decision-making process for hiring a C-level leader, which involves multiple stakeholders at multiple levels, data analytics/science may not be able to replace a consultant's expertise in identifying & evaluating a candidate, but it can help them account for factors/patterns that can go unnoticed due to a lack of data insights.
In what ways data can be analyzed?
Specific analysis and models to choose will depend on the research question you are trying to answer and the data available in the dataset. It's always good to explore and try different approaches to find the best solution for the problem in hand. Few possible ways to analyze data (but not restricted to) are:
Descriptive analysis can be used to summarize and describe data characteristics such as the distribution of candidates by source of profile, age, gender, experience, education, location, compensation, expected hike, and offer status.
Exploratory analysis can be used to identify patterns and relationships within a data set, such as the relationship between age, experience, and compensation, or the relationship between profile source and days to source/assess/onboard.
Predictive modeling: Using machine learning techniques like regression analysis and decision trees, models can be created that predict whether a candidate will accept an offer or how long it will take to onboard a candidate, based on the availability of both private and public data sources.
A candidate dropping after accepting an offer is a recruiter's worst nightmare; how cool would it be if data science could help mitigate this?
Segmentation: Data can be segmented into different groups of candidates based on certain characteristics, and then the data within each group can be analyzed to identify trends and patterns.
For example, data could be segmented by salary range/gender/skills and then analyzed within each group to see if there are any differences in terms of candidate characteristics or likelihood of accepting an offer.
Clustering: Using unsupervised learning techniques such as K-means clustering, similar candidates will be grouped together based on their characteristics, and then the data within each cluster can be analyzed to identify trends and patterns.
Survival analysis techniques can be used to analyze time to event data such as time to assess, time to source, time to onboard, and so on. It can shed light on how various factors influence the time to event.
Consider the following scenario:
A client wants to fill a high priority data science leadership position with a preference for a female candidate. The position's budgeted compensation is below market standards, and you must persuade the client to revise the budget in order to attract the best talent in the market. Because of the criticality of the role, you must establish SLAs and timelines for the search.
To address the aforementioned concerns, data from previous similar searches can be used. Data was analyzed, and various dashboards were created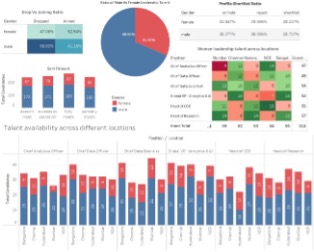 Despite the fact that the male-female ratio is roughly 70:30, there is a significant number of qualified female candidates in the market.
Successful onboard ratio of female candidates was higher than male candidates.
Locations with higher density of female candidates were identified.
These observations were helpful in determining the best locations for gender diversity hiring.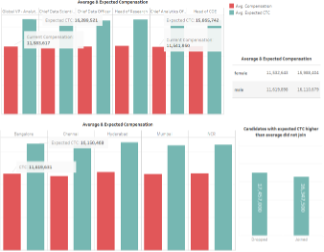 The above dashboard displays the average and expected compensation of candidates for various positions and locations.
These insights were useful in developing a competitive yet appealing compensation package to attract the best talent.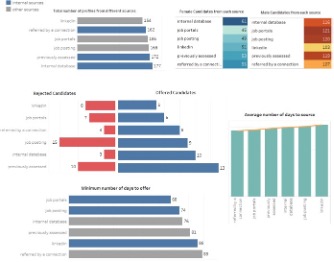 The above dashboard provides statistics on various sources of profile, profile quality, and timelines for sourcing and converting.
This aided in selecting the best search strategy to save money and time.
Note: To demonstrate potential use cases for data analytics in executive search, this analysis was conducted on simulated data. . The data was generated using Python functions and libraries based on the author's domain knowledge and practices. It consists of 1000 samples, each with approximately 31 data points. The dashboards were created using Tableau. If you want to learn more about the data and its attributes, please contact the author.
Data is indeed a powerful tool in executive search which is needed to gain insights into the effectiveness of recruitment strategies, identify patterns and trends in talent scape and make data-driven decisions about hiring.
It can help search consultants optimize their search processes, improve the quality of hires, and reduce costs associated with recruiting and onboarding. Additionally, it also provides valuable insights into the diversity and inclusivity of search efforts.
It stands to reason that analytics will become an increasingly important part of the executive search process. Clients have always wanted better, more concrete evidence about who they should hire and how? However, analytics also reveals a lot about the search process itself and where adjustments must be made to produce the best results.
About the author:
Paavana is a Data Scientist and Executive Search Consultant with CxSearch Global Partners with a particular emphasis on Data, Analytics, and AI leadership hiring in India and other global markets. She is a data enthusiast who is inquisitive about how data science can be applied in her profession. She recently received an Executive PG Diploma in Data Science with a specialization in Deep Learning from the International Institute of Information Technology, Bangalore.