Share on twitter
Share on facebook
Share on linkedin
Share on whatsapp
Share on email
One-Stop-Shop for a bank's model governance needs
Solution Overview
Model Eye is the imminent answer to bank's need for achieving superior model governance compliance, driving efficiency in the model governance process, and helping banks face supervisors with confidence..!
Business Use Cases
Manual Process of Monitoring Model performance that leaves many models without periodic review and validation.
Models lacking detailed Documentation which has become a major point of concern during regulatory reviews.
Models are in a "Diffused State" -Every BU / LOB develop their own models and are managing it themselves. There is No Single Inventory / Risk Tier-ing of Models. Also, there is No Single View of Models or Model Interdependencies and hence aggregated Model Risk remains unknown.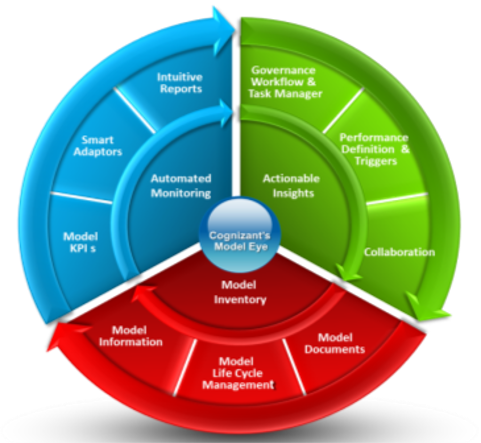 Key Differentiators
Platform Agnostic., ME can sit over any existing platform with minimal hardware and software investments (ME will be built in phases moving from SAS, SPSS, R to other Platforms as SAS is widely used). Can be implemented On-Premise/ or offered as SAAS
Built-in Large & Rich Library of Statistical Tests & Metrics for monitoring for faster implementation
High Configurability / customizability to suit the bank's policies and processes enabling easier adoption within the bank
Automation of a fairly large number of monitoring processes that will save the bank's spend on monitoring and free up resources (internal and vendor) to focus on model development
Key Features
Centralized Model Inventory
Ability to maintain centralized Model Repository and Model related information through the entire model life cycle, across multiple regions and business lines
Model Documentation Management
Audit Trail and Version control enabled Model Documentation Management for business use, internal audits and supervisory reviews
Automated Model Monitoring
Pre-Built Rich Library of Statistical Tests / Performance Monitoring metrics for handling multiple Class of Models that connect to the
bank's native analytical model development platforms for automated monitoring and reporting
Policy Implementation Workflow
Model Eye can help banks put in place a seamless workflow management system for implementing Model Governance policies
Reporting & Dashboarding
Enables the central reporting of health of all models & operational metrics for model governance processes across the bank
Collaboration
Model Eye comes in with enormous collaboration features to ensure a harmonious working between various process stakeholders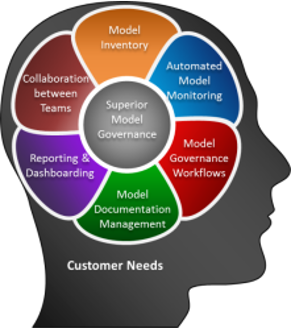 Key Benefits
Ensure adherence towards Model Governance Policies & Procedures across the entire Model Life Cycle and the entire organization
Makes regulatory and supervisory reviews on Model Risk Management smoother : all models, their performance monitoring results and accompanying documentation through the Model Life Cycle in a one-stop shop
Better business agility: CXO can ensure all models in use are relevant and healthy and helps senior management showcase "Effective Challenge" at every stage
Automated periodic model monitoring and reporting activities ensure more than just "Annual Touch" and save valuable resource time
Codify knowledge: Models no longer individual-dependent. Institutional record helps with business continuity
Task / Issues completely managed in a central place with Alerts/ Reminders on deadlines
Can be deployed "On-Premise" or offered as "Software as a Service" and connects seamlessly to your existing analytics platforms/ production systems
India's largest platform for AI & Analytics leaders, professionals & aspirants
3AI is India's largest platform for AI & Analytics leaders, professionals & aspirants and a confluence of leading and marquee AI & Analytics leaders, experts, influencers & practitioners on one platform.
3AI platform enables leaders to engage with students and working professionals with 1:1 mentorship for competency augmentation and career enhancement opportunities through guided learning, contextualized interventions, focused knowledge sessions & conclaves, internship & placement assistance in AI & Analytics sphere.
3AI works closely with several academic institutions, enterprises, learning academies, startups, industry consortia to accelerate the growth of AI & Analytics industry and provide comprehensive suite of engage, learn & scale engagements and interventions to our members. 3AI platform have 16000+ active members from students & working professionals community, 500+ AI & Analytics thought leaders & mentors and an active outreach & engagement with 430+ enterprises & 125+ academic institutions.