Roadmap to Analytics Maturity – Part 2
Abdul September 30, 2020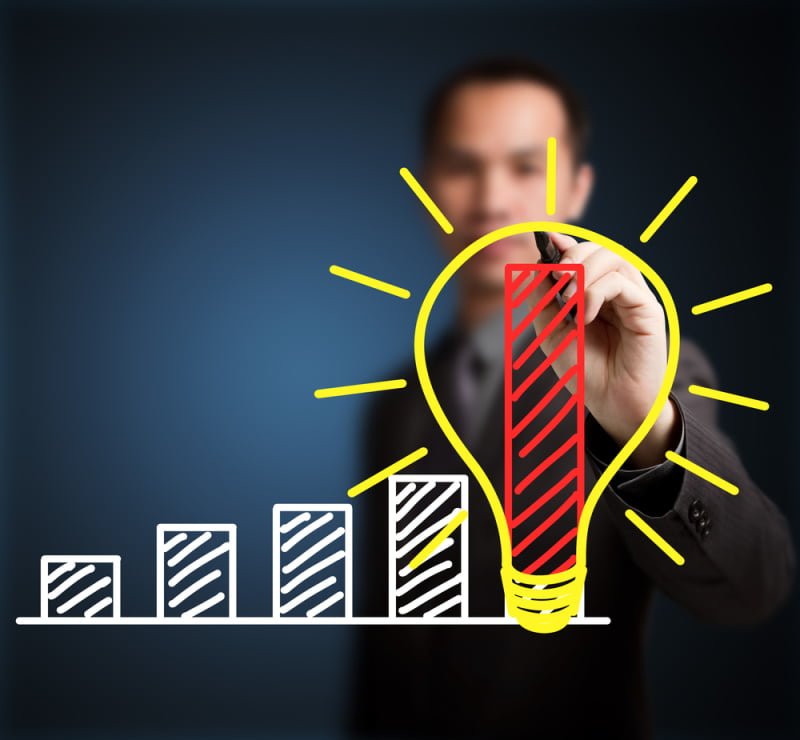 Hope that my earlier article would have given you a perspective on how you should be thinking about crafting an analytics roadmap for your business and the key facets to be considered before making any analytics assessments. In this article, I would want to take our discussion forward to the next level and bring to limelight some of the best industry practices adopted by analytically mature organizations across the globe. A powerful analytics ecosystem ensures systematic channelization of information and knowledge, and get it to the right people at the right time to help make optimal decisions and deliver economic value. Technology at our disposal is actually way ahead of our ability to use it, no more a barrier to widespread adoption at this point of time.
So, the challenge remains, how do you make Analytics an Integral Part of the Business – Not just an afterthought! How do you identify the right problem to solve? If the problem is just too easy to solve, people may not have faith in what analytics could delivery. Highly complex problems may again defeat the purpose. Hence, making sure that the problem isn't insurmountable but yet delivers high return is critical. Following steps should help you chart out a meaningful analytics strategy.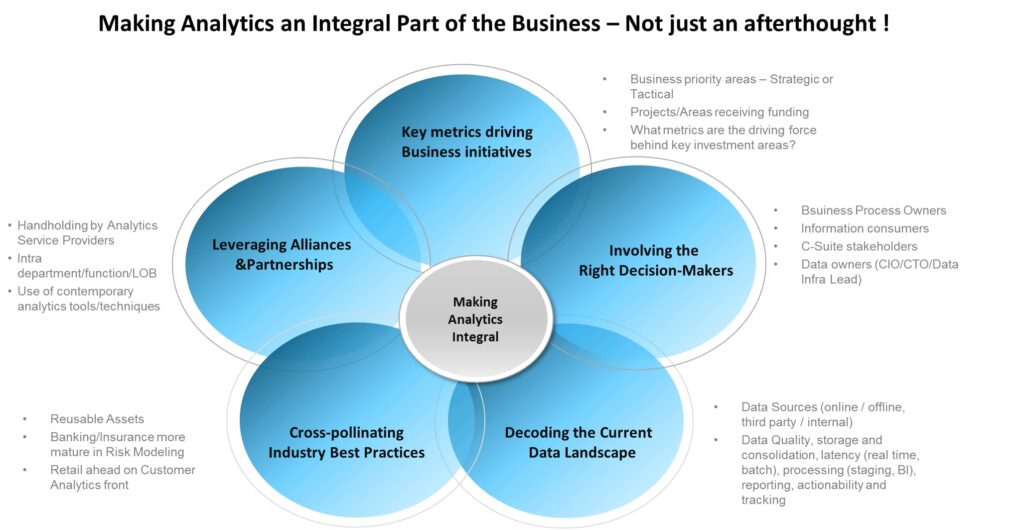 Identify Key Metrics driving Business initiatives
This piece is crucial to demystify top organizational priorities and mulling over how analytics can help.
Try getting a sense of business priority areas be it Strategic or Tactical, the key strategic growth objectives of the business
Getting one level down, identify projects/business areas receiving funding; captial infusion to a great extent is commensurate to the business priority and uncovering the right units receiving senior management attention
What metrics are the driving force behind key investment areas? Many a times these metrics can give you a better sense on what's driving decision-making and actions within the organization (e.g. cost rationaliztion, bolster top-line, increase responsiveness, transforming customer experience….)
Perform a stakeholder analysis to see which business stakeholder could potentially benefit the most. Have clarity whether you are planning to put in place an enterprise-wide analytics capability or just render analytics services for a limited set of functions/divisions
Decoding the Current Data Landscape
Data is the lifeblood for Analytics and it's imperative to assess the exisiting data landscape, define current state and target state so that appropriate remedial measures can be taken to fill in the gaps (missing data,  disparate data et al). In many cases, the business challenge you intend to address may have inept data infrastructure or even indequate mechanisms to capture that data.
Identifying the disparate Data Sources (online / offline, third party / internal). Umpteen times, this data might be sitting in silos within various functions/departments and may need buy-in & support from relevant gatekeepers
Data quality, storage, assimilation and harmonization. Much of that data may be of questionable quality and may seek a high degree of manual intervention and sanitization to make it relevant (often leading to this perinnial debate among leaders about the relevancy of this fabricated data, rather than the actual significant decisions). Siloed data again could mean limited foresight into truly understanding the cross-organizational impact. Data security concerns may impede your ambitious intent
Data availability ( may be latency, real time or batch), data processing (staging, BI), reporting structures again may need to be understood well to craft out a robust data roadmap
Cross-pollinating Industry Best Practices
Every industry out there is at a different stage in the analytics maturity curve. Banking and Insurance have always been quoted as industries involving "number crunchers", the torchbearers of data-driven decision making. Retail industry has been leading from the front in terms of personalization and transformed customer experience.
Develop Reusable Assets which could easily be cross-leveraged to address varied other business challenges
Banking/Insurance are more mature in Risk Modeling, and other industries could tweak the learnings to suit their context (e.g. POS or Point-of-Sale Risk in a retail scenario, or may be fraud and abuse)
Retail industry is leading on Customer Analytics front & other industries could pick up how to develop robust recommendation engines, cross-sell/up-sell tactics, harping on social media analytics and creating 360 degree customer view
Leveraging Alliances & Partnerships
Based on where your organization stacks up in the Analytics maturity curve, can help determine the partner of choice for supporting your analytics initiative. While charting out the analytics roadmap, it's important to identify interventions where analytics capabilities don't reside in-house or there's dearth of expertise or capability or contemporary tools needed to get the job done. Data assimilation concerns, to a great extent, can be allayed by working with the right partner having big data & data processing capabilities.
Handholding by Analytics Service Providers or analytics consultants could be a critical ingredient to success of the Analytics initiative
Intra department/function/LOB capabilities can be leverage to rationalize investments and tapping into internal talent pool
Needless to say, use of contemporary analytics tools/techniques is crucial and can be effectively enabled through right partners post appropriate due diligence
Involving the Right Decision-Makers
Business partnership and sponsorship are key to successful identification of opportunities, adoption, and realizing the true potential of your analytics initiative. Unless you have strong advocates to take something on, a sea change to the way the company does business, it's not going to happen.  Also, the problem at hand should resonate with all majority of the business stakeholders. Positive outcomes relating to a limited audience may restrict organizational buy-in for subsequent roll-outs.
Have Business Process Owners looped in across all your internal planning touchpoints. They have the intricate knowledge of how the process works, which are the key areas of improvement where Analytics has an ample opportunity to showcase tangible improvement outcomes
Information consumers, direct business users, the true beneficiaries of the analytic insights derived and can be your Analytics advocates, ones who shall be establishing credibility for an enterprise-wide roll out
To C-Suite stakeholders, you must be able to clearly articulate why an analytics capability is important to the organization and what the business will look like once the capability is in place. Some members of an organization may not be convinced that analytics will add value to the business, so it is up to leadership to make the case that it will be worth the effort
Data owners (CIO/CTO/Data Infra Lead) are the eventual gatekeepers of the data you seek in the initial phases. Lack of "right" data may harm your intent and business outcomes in ways unimagined
In the upcoming article as part of this 3-part series, I shall shed some more light on the fundamental building blocks of crafting an Analytics roadmap in line with the business priorities, howsoever resilient your organization might be to infusing analytics at the business core. Stay tuned!