Solving the Challenges of Analytics at Scale
3AI April 20, 2021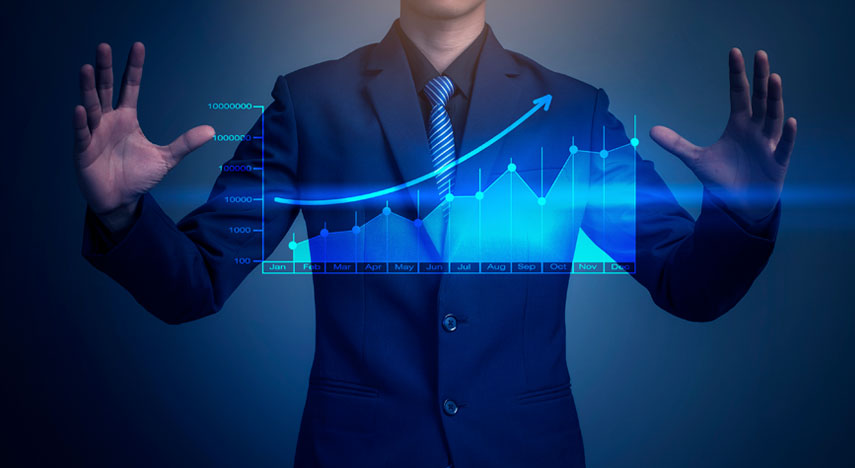 Faced with a growing need to adapt and optimize business models in a digital landscape, organizations have been steadily increasing their investments in the Analytics and Digital Transformation space. However, even as these businesses continue to invest in and build their analytics practice, they continue to question the ROI from these investments—which is mainly a fallout of their inability to scale up. Surely the year 2020 saw both growing adoption and investment in analytics initiatives but enterprise-wide scale-up still remains a challenge. In fact, the CPG industry particularly shows usage of analytics in a very lopsided manner, that is, a few functions have embraced it and continue to build on it, while others are still at initial stages.
Having said that, it is also true that the organizations that have been able to scale up their analytics and digital maturity at an enterprise level have yielded gains upwards of 10% in top-line and 5% in margin impact on average. Kearney's study on the 'The Value of Analytics in 2019' showed similar results, with the additional finding that leaders (mature analytics companies) often exhibit the least variance in returns and that forward-thinking decision-makers often persist and grow their organization's analytics maturity, looking beyond percentages and at the uplift in dollars instead.1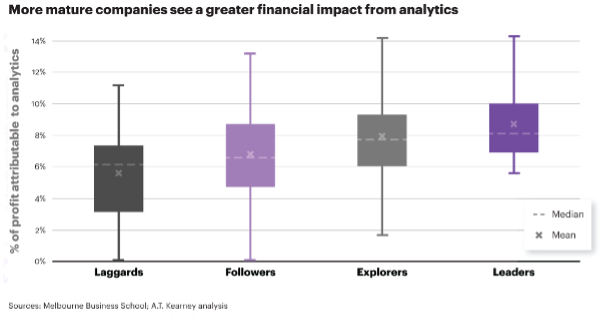 So what's stopping organizations from realizing the value of scaled analytics?
Here are some KEY PITFALLS that have prevented organizations in their enterprise-wide scale-up across the spectrum of uses cases:
Trying to build the 'Best Precision Model' vs. using a 'Decision Model' that prioritizes decision-maker needs
Analytical models and tools are often built keeping in mind the analytics/insights organization and not really the main decision-maker—the sales person, the brand marketer, supply chain manager, etc., leading to low adoption of the decision tools
The solution is more Data-oriented than Decision-oriented or Impact-oriented
Enormous time is spent on dissemination of insights, both top-down and bottom-up
Big investments are made in:

Silos, in more products that don't talk to each other
'Best Tech' vs. 'Best Tech for My Decision Maker' keeping in mind the data, analytics, and skills maturity of an organization and department

Hiring for the best/most skilled/perfect fit vs. adopting a Build-Learn-Partner approach to resource and capability development
Implementing tools or products that provide good insights vs. insights that are truly helpful in moment-of-need for the decision-maker; solutions that fail to answer the "so what" for busy users
Although the above mentioned pitfalls in analytics implementation and scale-up are not absolutely difficult to overcome, they are often missed or not given enough importance, leading to subpar gains.
At Course5 Intelligence, as we work with Fortune 1000 CPG organizations across the globe, here are some solution approaches that have helped our clients and can perhaps help you move the needle in the right direction —
Be more decision-oriented: We often start with unearthing what's in the data and then move up the business value chain. However, if we start with – "What decision do we want to make?" and "What are the degrees of freedom available to make that decision?", our journey to scale up would be solved by at least 50% because:

You would be able to assess an impact, an estimated impact, even before you embark on the entire journey
The estimated impact would help drive acceptance and change management
You and your team would be able to scope out the work very well, minimizing chances of scope creep or inability to deliver on time
You would focus on data requirements from the decision-making lens and not the other way around; you would be able to avoid data distraction

Decision Models & Toolkits – While building decision models and toolkits, the starting point should be to understand the 'daily life' of individuals and their decision-making journey. Important factors to keep in mind are:

Aim for the right blend of art & science in the models – Not every time is a 90% confidence level required; at times even an 80% confidence level on certain variables or parameters is good enough if they are able to bring in the context, including other variables that solve the business question and provide ease to decision-makers.
The UX/UI must be simple and intuitive – Ease of interaction with the toolkit and its recommendations is a critical factor in adoption. A great example is Google Maps. It's –

         a great recommendation engine
         built keeping in mind the decision-maker and how he/she would use the maps and their bandwidth to understand the tool
          simple & intuitive in nature
          equipped with a very smooth self-learning module – alternate route / re-routing when you disregard a recommendation

Adopt a LEGO-like technology building block approach towards investments, with key focus on the shift from Product to Platform orientation. An organization's data landscape and business challenges will continue to evolve and hence it is imperative to have a technological framework that can be adapted or scaled with a LEGO-like approach.
Lastly, and this is the overarching consideration, your analytics approach must impact decision-making at scale; if it's not going to, then it needs to be re-looked at because, after all, investments are limited and must prove truly valuable and profitable in the long-term.
At Course5 Intelligence, we use the below Decision & ROI Lead approach to help our clients by not just providing the analytical ammunition, but walking with them right from ideation to adoption and activation. After all, that is when true transformation is delivered. We believe in "consumer-first" and that the consumer–market–category dynamics would continue to evolve, and hence our approach builds in the agility required for meaningful digital transformation.      
References:
About Course5 Intelligence:
Course5 Intelligence drives digital transformation for businesses through analytics, insights, and artificial intelligence. The company helps organizations make the most effective strategic and tactical decisions related to their customers, markets, and competition at the rapid pace that the digital business world demands. Course5 Intelligence creates value for businesses through 360-degree data convergence and actionable insight.
Title image: freepik.com