AI Powered Organisations
3AI May 10, 2019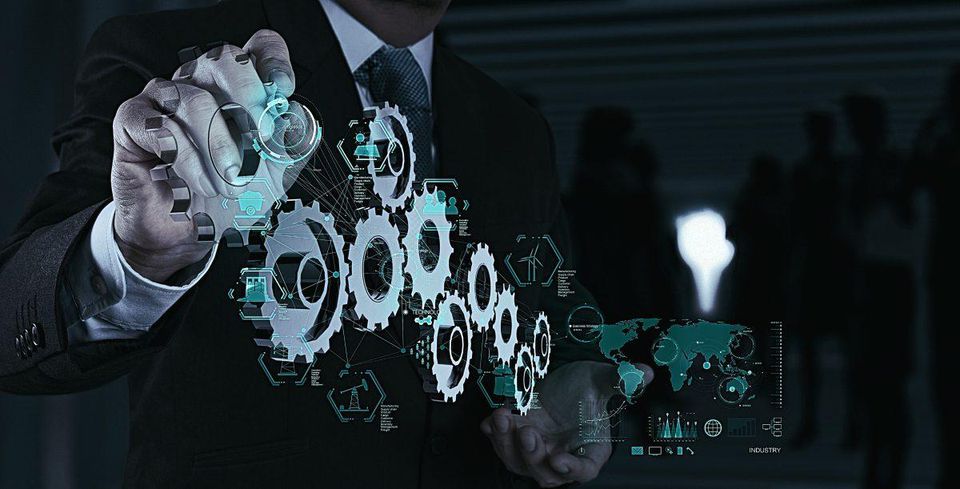 The adoption and benefit realisation from cognitive technologies is gaining increasing momentum. According to a PwC report, 72% of business executives surveyed believe that artificial intelligence (AI) will be a strong business advantage and 67% believe that a combination of human and machine intelligence is a more powerful entity than each one on its own.
Another survey conducted by Deloitte reports that on an average, 83% of respondents who have actively deployed AI in the enterprise see moderate to substantial benefits through AI – a number that goes further up with the number of AI deployments.
These studies make it abundantly clear that AI is occupying a high and increasing mindshare among business executives – who have a strong appreciation of the bottom line impact delivered by cognitive systems, through improved efficiencies.
AI-first Mindset
Having said that, with AI becoming more and more mainstream in an organisational setup, piecemeal implementations will deliver a lower marginal impact to organisations' competitive advantage. While once early adopters were able to realise transformational benefits through siloed AI deployments, now that it is fast maturing as a must-have in the enterprise and we will need a different approach.
To realise true competitive advantage, organisations need to have an AI-first mindset. It is the new normal in accelerating business decisions. It was once said that every company is a technology company – meaning that all companies were expected to have mature technology backbones to deliver business impact and customer satisfaction. That dictum is now being amended to say – every company is a cognitive company.
To deliver on this promise, companies need to weave AI into the very fabric of their strategy. To realise competitive advantage tomorrow, we need to embed AI across the organisation today, with a strong, stable and scalable foundation. Here are three building blocks that are needed to create that robust foundation.
1. Enrich Data & Algorithm Repositories
If data is indeed the new oil (which it is), organisations that hold the deepest reserves and the most advanced refinery will be the ones that win in this new landscape. Companies having the most meaningful repository of data, along with fit-for-purpose proprietary algorithms will most likely enjoy a sizeable competitive advantage.
So, companies need to improve and re-invent their data generation and collection mechanisms. Data generation will help reduce their reliance on external data providers and help them own the data for conducting meaningful, real-time analysis by continuously enriching the data set.
Alongside, corporations also need to build an 'algorithm factory' – to speed up the development of accurate, fit-for-purpose and meaningful algorithms. The algorithm factory would need to push out data models in an iterative process in a way that improves the speed and accuracy.
This would enable the data and analysis capabilities of companies to grow in a scalable manner. While this task would largely fall under the aegis of data science teams, business teams would be required to provide timely interventions and feedback – to validate impact delivered by these models, and suggest course-corrections where necessary.
Another key aspect of this process is to enable a transparent cross-organisation view into these repositories. This will allow employees to collaborate and innovate rapidly by learning what is already been done and will reduce needless time and effort spent in developing something that's already there.
2. AI Education for Workforce
Operationalising AI requires a convergence of different skill sets. According to the above-cited Deloitte survey, 37% of respondents felt that their managers didn't understand cognitive technology – which was a hindrance to their AI deployments.
We need to mix different streams of people to build a scalable AI-centric organisation. For instance, business teams need to be continuously trained on the operational aspects of AI, its various types, use cases and benefits – to appreciate how AI can impact their area of business.
Technology teams need to be re-skilled around the development and deployment of AI applications. Data processing and analyst teams need to better understand how to build scalable computational models, which can run more autonomously and improve fast.
Unlike a typical technology transformation, AI transformation is a business reengineering exercise and requires cross-functional teams to collaborate and enrich their understanding of AI and how it impacts their functions, while building a scalable AI programme.
The implicit advantage of developing topical training programmes and involving a larger set of the workforce is to mitigate the FUD that is typically associated with automation initiatives. By giving employees the opportunity to learn and contribute in a meaningful way, we can eliminate bottlenecks, change-aversion and enable a successful AI transformation.
3. Ethical and Security Measures
The 4th Industrial Revolution will require a re-assessment of ethical and security practices around data, algorithms and applications that use the former two.
By introducing renewed standards and ethical codes, enterprises can address two important concerns people typically raise – how much power can/should AI exercise and how can we stay protected in cases of overreach.
We are already witnessing teething trouble – with accidents involving self-driving cars resulting in pedestrian deaths, and the continuing Facebook-Cambridge Analytica saga.
Building a strong grounding for AI systems will go a long way in improving customer and social confidence – that personal data is in safe hands and is protected from abuse – enabling them to provide an informed consent to their data. To that end, we need to continue refining our understanding around the ethical standards of AI implementations
AI and other cyber-physical systems are key components of the next generation of business. According to a report by semiconductor manufacturer, ARM, 61% of respondents believe that AI can make the world a better place. To increase that sentiment even further, and to make AI business-as-usual, and power the cognitive enterprise, it is critical that we subject machine intelligence to the same level of governance, scrutiny and ethical standards that we would apply to any core business process.
Related Posts
AIQRATIONS