how algorithms are redefining board room conversations
3AI March 31, 2019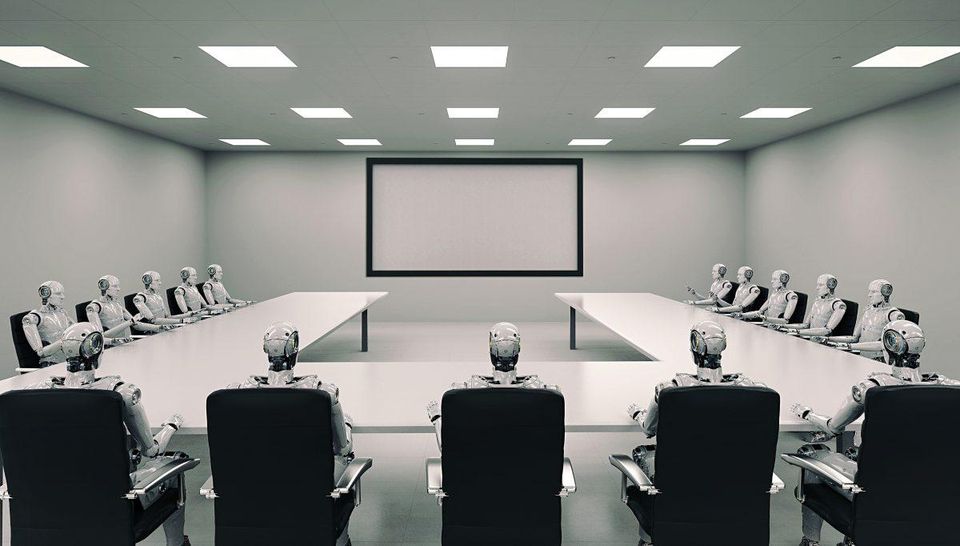 For the past few years, Artificial Intelligence has initiated unlocking value gains through the automation and augmentation of routinized operational activity. But are we underestimating the potential of machine intelligence? Does it make sense to relegate a powerful technology to perform tactical tasks? Or can AI move further upstream and help corporate boards make more accurate, strategic decisions?
The possibility of AI to enable better decision-making has been heavily discounted thus far. However, with Artificial Intelligence capably enabling more informed decisions in the realm of healthcare and investment banking – two of the most complex arenas where AI has been deployed – the possibility of having machine cognition in the boardroom no longer sounds too far-fetched. At the end of the day, corporate boards make complex decisions, that have huge ramifications for the future of their organizations. It is important that these decisions are based in fact, rather than judgement. AI can help corporate boards make faster, more accurate and unbiased decisions. AI can help inform strategy by giving executives a better understanding of their internal and external environments. Let us look at some key areas where senior executives in organizations can look at making better decisions using Artificial Intelligence.
AI for Executive Decision-Making
Corporate boards and top executives are charged with maintaining the health and competitiveness of an organization. They are responsible for the long-term sustainability and success of their organizations. This, in turn, requires them to stay ahead of the curve and understand their business landscape and intelligently deploy capital across inorganic and organic growth channels. Executives also own the key metrics for their organizations – and ensure that the overall return for the shareholder capital employed continuously beats industry expectations. Let us look at how AI can help transform the activity of executives in these areas.
The traditional paradigm of understanding the business environment is shifting rapidly. It is estimated that 50% of the present Fortune 500 companies in the US will fall off the list by 2027. This is due to increasing competitive pressure from incumbents from disruptive, tech-driven startups as well as lateral moves from companies outside the traditional industry.
Such a fast-changing environment requires solutions that can provide insights at a comparable pace. AI can help executives better understand the trajectory of their present industry and provide deep insights on the expectations of customers, suppliers and other stakeholders. AI can also be deployed to monitor the entry of new competitors while benchmarking the organization against incumbent competitors – providing insights around improving operational efficiency, customer loyalty and marketing effectiveness. The key advantage of incorporating AI into this process is to improve the speed at which these insights can be mined, as well as separating the wheat from the chaff in terms of the criticality of the insights. These insights can be power key decision points for executives from where they can make more informed decisions around strategy.
Accentuate Awareness of Competitive Landscape and Business Environment
Leverage AI Assistants for Improving Speed of Decision-Making
Executive leaders often rely on numerous reports around key organizational metrics to make decisions that can have massive implications for their businesses. Is a particular segment of the business growing rapidly? Are some cost centers underperforming on their efficiency metrics? Are there laggards in the product portfolio of the enterprise that are dragging performance down? All these numbers have to figuratively be at the tip of an executive's tongue – so that in key meetings decisions that affect the future of the business can be made more accurately and quickly.
AI-powered smart assistants would be extremely critical to help push the needle on making executive decisions with accuracy and speed. With intelligent bots, executives can be provided updates on the most critical metrics that they care for at the right time when they need them. With AI, it is possible to personalize the insights that are sent to executives – so that they are able to drill down and understand the basis for each metric.
Unbiased Capital Allocation on R&D and M&A Activities
Corporate boards and executives also need to take the long term view of how their companies evolve to thrive in the future. This requires intelligent bets to be taken on budgetary spending – for both organic and inorganic activities. How much money needs to be realistically spent on Research and Development activity and how it can it help corporations maintain larger moats against their competition? Can corporations look at inorganic acquisitions to accelerate the growth of synergistic capabilities that can form much more compelling value propositions?
AI will soon be able to provide comprehensive answers to such questions. By leveraging data from multiple sources combined with intelligent algorithms, AI will be able to weigh these multiple options and identify which one is best suited for each unique situations. In this way again, AI can help executives forecast which decisions can have maximum impact on financial metrics and model the long-term health of the organization.
As corporate boardrooms take serious cognizance of having robotic counterparts augmenting the decision-making process, it is important to consider certain caveats. For AI to work to its full potential, it is important to ensure that it is provided high quality data and continuously refined algorithms. We have seen the fallouts of algorithms going awry before. Biased algorithms working off bad data sets create issues that could potentially disrupt the fabric of the organization. It is therefore important that organizations ensure the implementation of explainable AI that can provide the rationale and take accountability of the decisions that it powers. Finally, it is important that executive leaders also create the right culture within their organizations for AI to thrive. A combination of human intelligence and artificial intelligence is the future and hence it is critical that companies relook at their culture to ensure that both can amicably survive together and put the organization on the right path.
According to research by McKinsey, it is estimated that 16 percent of board of directors did not fully understand how the dynamics of their industries were changing and how new technologies could impact their businesses. This gives AI a huge window of opportunity to permeate through global boardrooms and power better decisions. Decisions that can keep their organizations financially healthy, focused on the long-term and competitively differentiated against their competitors.
Related Posts
AIQRATIONS