Rethink Future of Work with HyperAutomation
3AI May 18, 2023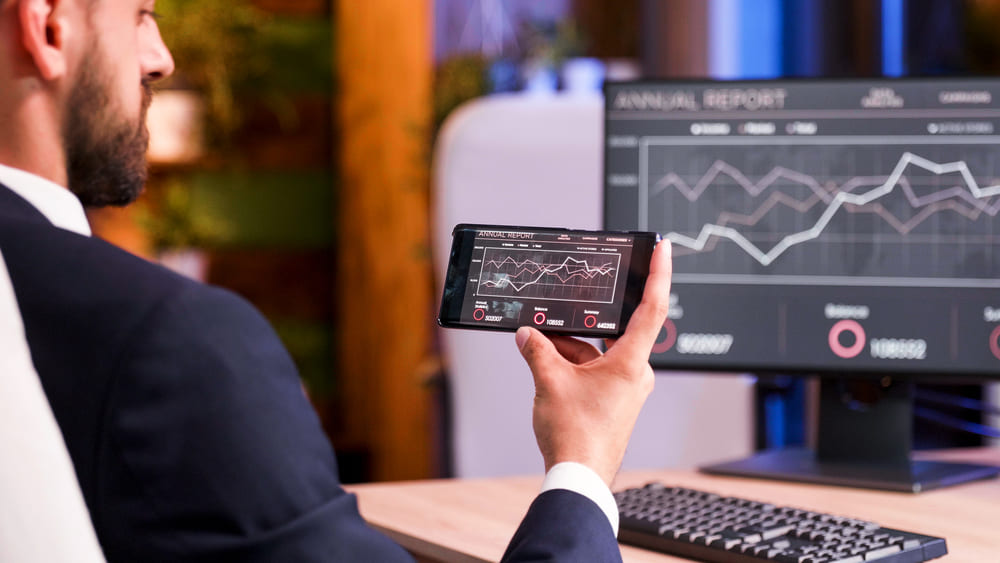 Featured Article:

Author: Raghav Nyapati, Digital Transformation Leader- HyperAutomation, Rocket Software
Genesis of HyperAutomation
In the current situation of "New Normal" where economic & financial uncertainty compounded by pandemic are causing organizations to spend less on costly infrastructure, large staff and extensive real estate thus forcing them to think of "digital first options", "remote work" and adopt "automation" to be more resilient and responsive to any future financial or economic crisis. This new wave of "Digitization" is fueling the demand to automate as many business and IT processes as possible through the orchestrated use of multiple technologies, tools or platforms through HyperAutomation suite of products.
Organisations are shifting to consume more effective integrated HyperAutomation technologies in order to have a variety of tools such as RPA, AI, ML, Analytics, Process Mining, iBPMS and associated skills to situationally apply as needed. HyperAutomation will become the "Next Normal" for addressing all the "Digitization" and "Digital Automation" needs. Organisations, business stakeholders, and IT stakeholders should be aware of how the "HyperAutomation" suite of products serves as a potent catalyst for product standardisation, product differentiation, and paving the way to becoming "Digital First Organisations," which are essential to surviving, expanding, and succeeding in the current digital era.
Digital Workplace where "Human" + "Bots" will augment, amplify, and learn from each other's action to create future of work.
Deeper Dive- HyperAutomation
Hyperautomation, frequently referred to as the next phase of digital transformation, advances traditional automation by incorporating cutting-edge technologies to enhance human capabilities and carry out complex tasks on its own. It is an all-encompassing, end-to-end approach to automation that goes beyond simple process automation and incorporates a wide range of technologies, including Robotic Process Automation (RPA), artificial intelligence (AI), machine learning, process mining, and decision-making tools.
Hyperautomation's transformational potential must be understood in terms of its fundamental parts and how they interact. Robotic Process Automation (RPA), a technology made to replicate human behaviours and automate repetitive processes, is first and foremost at the core of hyperautomation. Although powerful, RPA's capabilities are mostly rule-based and deterministic, which is where AI comes in.
Cognitive capabilities are added to the mix by artificial intelligence (AI), enabling computers to learn, comprehend, and decide. With the help of machine learning, a kind of artificial intelligence, these systems may adapt and get better over time, developing decision-making skills. With the help of this intelligence layer, hyperautomation may handle non-deterministic activities involving unstructured data and requiring judgement or reasoning.
Process mining, which analyses corporate processes to find bottlenecks, inefficiencies, and potential for automation, is another component of hyperautomation. These technologies offer the required insight and control to guarantee the best process execution when used in conjunction with decision management tools, which aid in the design, modelling, execution, and monitoring of decision logic.
Hyperautomation involves orchestrating and optimising entire business processes, not just automating repetitive operations. It involves building a virtual replica of each organisational process, resource, and interaction known as a "digital twin of the organisation" (DTO). Then, by using this DTO to analyse, simulate, and forecast results, organisations can spur continual innovation and improvement.
Hyper Automation Ecosystem
Automation problems cannot be solved by a single tool or with siloed strategies.
In the current digitization wave, organizations are exploring new ways to capture more value from automation by augmenting or complementing automation products with existing or new products, making a federated automation suite to cater to various business problems or customer use cases. This new paradigm of conglomeration of automation products is called "HyperAutomation".
In the HyperAutomation ecosystem, various emerging technologies/tools are converging to form a consortium model that combines these technologies into an integrated hyperautomation suite of products. This trend includes: Zero/Low Code automation tools such as Robotic Process Automation (RPA), Business Process Management(BPM), Artificial Intelligence, Machine Learning, and process mining and analytics. .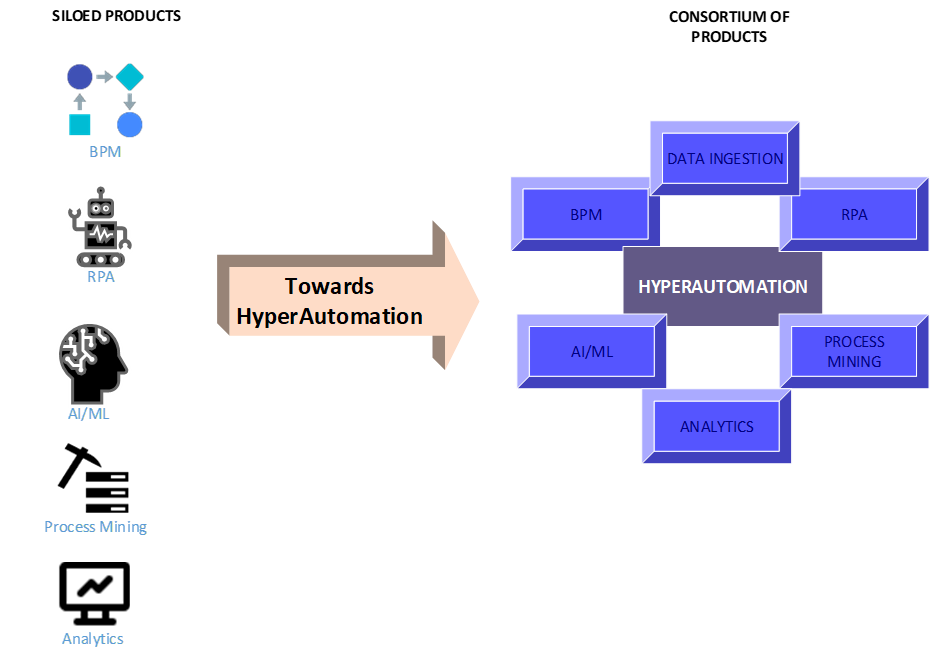 HyperAutomation" tools are truly revolutionizing the Digital landscape and how organizations can use this orchestrated use of multiple technologies to rapidly identify, analyse and automate as many business and IT processes as possible
Let's walk through an example of how a hyperautomation ecosystem delivers a compounded effect to an automation project. If we combine Robotic Process Automation (RPA) with AI or predictive analytics, we can generate a greater volume of high-quality data that can be used to address a wider spectrum of gaps in workflows, guide the scaling of automated processes, and optimize the efficiency of self-service portals or chatbots – further enhancing the customer experience organizations can offer.

Where RPA aims to improve efficiency, reduce manual labor, and minimize errors within a single process workflow, hyperautomation aims to extend those benefits across the larger business. Think of hyperautomation as an evolution from conventional automation. As such, hyperautomation strategies are typically aligned to meeting broader business objectives, like the need for accelerated innovation, risk management, and optimal use of talent or resources to achieve greater competitiveness.
Value Proposition of HyperAutomation
Hyperautomation has the following advantages:
Productivity gains: By automating repetitive and manual processes, hyperautomation frees up workers to concentrate on higher-value, more strategic duties. Increased productivity and efficiency may follow, which may equate to reduced costs and greater corporate performance.
Savings: By automating laborious processes, hyperautomation can lower labour costs and boost operational effectiveness, saving firms money. Automation can also increase quality and decrease errors, which lowers rework costs and raises customer satisfaction.
Improved accuracy: By automating jobs that are prone to human mistake, hyperautomation can drastically minimise errors and inaccuracies in corporate processes. This can lead to increased precision and quality, which can raise customer satisfaction and lower rework expenses.
Faster processing times: Hyperautomation can drastically cut down processing times by automating activities. This can speed up response times and cut down on the amount of time it takes to provide clients with goods or services.
Scalability: By automating repetitive procedures and boosting production without the need for extra people, hyperautomation can help firms scale their operations more effectively.
Conclusion- Future Of Work
The path to hyperautomation is not without obstacles, though. It necessitates a large investment in both technology and expertise. Integrating different systems and technology involves challenges. Additionally, it calls for a cultural change that embraces digital transformation and ongoing learning.
Despite these difficulties, hyperautomation has too much potential to be disregarded. Organisations have the chance to fundamentally reevaluate how they function and provide value. Organisations may concentrate on strategic, innovative, and human-centric jobs by automating and improving procedures, which will ultimately result in more meaningful work and a better customer experience.
Hyperautomation is now a reality. It is now a matter of when and how organisations will start this transformative journey, not if they will. Hyperautomation is poised to reshape the nature of work in the future and usher in a new paradigm for company operations thanks to its promises of increased effectiveness, agility, and intelligence.
Finally, hyperautomation exemplifies the fusion of technological and human potential. It exemplifies the next stage of the digital transition, where automation enhances human talents rather than merely replacing human labour. Hyperautomation is prepared to usher in a new era of productivity and innovation with its potent combination of technologies.
Title picture: freepik.com