One question I get asked around frequently is "What is your view about Data Science industry in India?" and it comes in various shapes and sizes. From the curious ones asking finer details about the industry, the optimists confirming that data science would be the fastest growing field in the next decade to pessimists asking whether data scientists would even be required 5 years from now? Since I get these questions very frequently, I hope that a lot of people would be interested in knowing these views. Hence, I thought I would share my notes and views on the industry.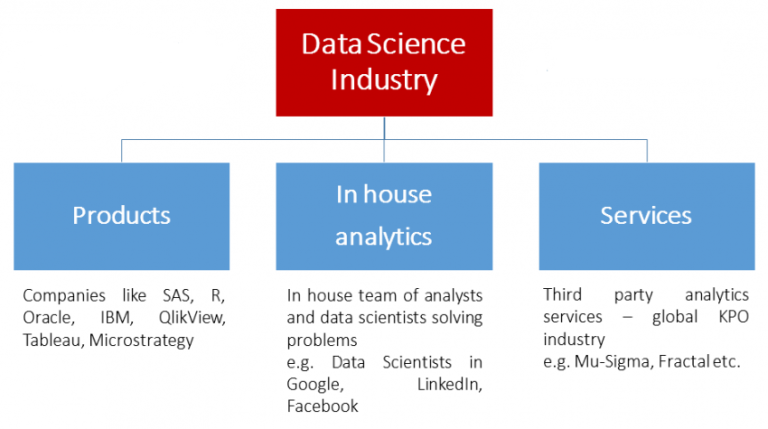 As you can see, the industry can be looked as a summation of three different verticals – Data Science products, the in house analytics happening in various companies and the third party services / consultancy provided by companies. Among the three, it is very difficult to size the in house analytics setup. How do you put a value to the contribution of data science in the products and services provided by Google?
Hence, whenever you hear any metric related to size of data science industry, it would mostly be focused on either products or services. Also, there are a few additional industries associated with data science which are not covered in this framework. These would include data science training institutes and placement agencies.
According to a report released by NASSCOM  by the end of 2017-18 the data science market in India would be around $2.3 billion. The global Data Science / analytics marketplace today stands at $125 billion (forbes) and is growing at 30% year on year. So, the services industry mentioned above is actually a small portion in overall scheme of things. However, for some reason the focus of data science industry in India has been services and not products – possibly because of presence of the employers.
What about jobs? Are Data Science jobs increasing by the day?
I am sure you have heard the headline here. The famous McKinsey report quotes a shortfall of up to 190,000 data scientists and 1.5 Mn data managers in the U.S. alone. The shortage obviously increases when you look at the situation across the globe. Let us add more texture to this.
Looking at regional searches with in India, Gurgaon & Bengaluru seem to have the highest search for analytics jobs, his is also in sync with our experience with jobs in industry. As per our estimate, Bengaluru would have 30 – 40% jobs market share, Delhi NCR would have 25 – 30% market share and then the remaining cities. Here is a heat map of the same: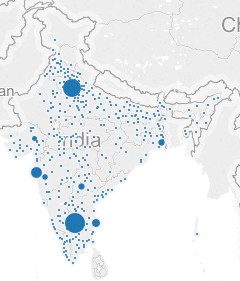 The Indian IT Service Hub Advantage
India's dominance as an IT services hub, in conjunction with its small but highly skilled white collar workforce—one that is well-trained in computational technologies and quantitative research methodologies such as mathematics and statistics–has allowed it to reap the benefits of the data revolution.
And according to an article written in Times of India Rituparna Chakraborty, co-founder & senior VP of TeamLease Services is quoted saying:
"India will face a demand-supply gap of 2,00,000 analytics professionals over the next three years. Even in the US, only 40 out of 100 positions for analytics professionals can be filled." Today, India has emerged as a key player in the global data analytics sector, particularly in the domain of B2C service provision. The speedy transition from IT to next-generation technologies like Big Data and Data Analytics can be attributed in part to Indian institutes of higher education like the Indian Institute of Technology (IITs) and the Indian Institute of Management (IIMs).
APPLIED DATA ANALYTICS IS A HYBRID BEAST
This makes it clear that not only is India a major data analytics hub–it is also evolving into a powerful educational destination for data analytics neophytes.
Analytics in the corporate sphere is a hybrid beast. By this I mean that it is an agglomeration of motley skillsets, including strategic planning and business development. In an entrepreneurial milieu, big data analytics has to serve an overarching, organisational imperative. It is typically used to answer questions such as: How best can our company grow? What systems and processes must we change/replace/reimagine to do so successfully? When/how do we change course?
To work within the parameters of such questions, the analyst must not only have a solid grasp of analytics tools; he or she must also have a keen understanding of the vertical/company in which they work, the industry at large, and wider socio-economic trends. Think of it this way: knowing how to use a scalpel doesn't make you a surgeon—first you must understand human physiology, and its discrete pathologies and their treatment, before you can even approach a patient, scalpel at the ready.
This would mean acquiring analytics skills in an interdisciplinary context from the get-go. When learning how to use a tool or device, it is best to do so in the interests of serving very specific ends.
THE INTERDISCIPLINARY DATA ANALYTICS EDUSCAPE
So what makes India's analytics-friendly higher education landscape so exceptional?
India, it turns out, has an embarrass de riche of quality interdisciplinary Business Analytics courses. As home to a rapidly burgeoning array of training programs, the Indian post-graduate scene is geared towards producing analytics professionals with an understanding of business management.
A significant number of the institutes on both lists have been accredited by globally recognised ratings agencies for their rigour and high quality.
Out of the 10 institutes that Analytics Vidhya deems to have the best Business Analytics course offerings in India, three are AMBA or Association of MBAs accredited (AMBA is a premier UK-based rating agency.) They are:
The Post Graduate Program in Business Analytics – Great Lakes Institute of Management
The Certificate Programme on Business Analytics and Intelligence – IIM Bangalore
The Executive Program in Business Analytics (EPBA) – MISB Bocconi
The Certificate Program in Big Data and Analytics (BDAP) – SP Jain School of Global Management (SP Jain's Dubai campus is #10 on Forbes 2015 list of Best International MBAs.)
This demonstrates the importance these schools accord to the business management side of applied analytics. According to AMBA:
"It used to be that Indian students who wanted MBAs had to go abroad — often to countries like the US and the UK — to find decent business education through accredited business schools. But in the past few years, a number of business schools in India have been garnering international attention, as well as accreditation from AMBA, EQUIS, or AACSB."
Trends to follow for maturity adoption
While Bengaluru & Delhi NCR have traditionally been the hub of Data Science in India, there are new cities like Pune, Hyderabad and Chennai coming up fast on the heat map.
In terms of tools, SAS would still dominate the market share as most of the banks, telecom players and CPG players rely on SAS. However, the start-ups and consultancies have clearly started focusing on R and Python. So, this might be up for a change, especially given the trend in the U.S.
The industry is going through really tough competition in recruiting the top talent directly from colleges. This has resulted in a very healthy increase in pay packages to the best talent from premier institutes.
In coming times, I expect a lot of action in data science in the heated e-commerce space in the country. With the likes of Flipkart and Snapdeal setting up their own analytics units and Amazon being Amazon, data assets are expected to create a differentiation in coming times.
The Final Word
The Indian analytics services sector has become a pivotal component of the global data science ecosystem. A key driver behind its ascendance has been its capacity to institute world-class training programs and facilities, allowing it to provide the Data Science market (at home and abroad) a skilled and seasoned workforce. And luckily there is no shortage of educational resources, which makes India one of just a handful of global destinations for students looking to learn applied data analytics.
India's largest platform for AI & Analytics leaders, professionals & aspirants
3AI is India's largest platform for AI & Analytics leaders, professionals & aspirants and a confluence of leading and marquee AI & Analytics leaders, experts, influencers & practitioners on one platform.
3AI platform enables leaders to engage with students and working professionals with 1:1 mentorship for competency augmentation and career enhancement opportunities through guided learning, contextualized interventions, focused knowledge sessions & conclaves, internship & placement assistance in AI & Analytics sphere.
3AI works closely with several academic institutions, enterprises, learning academies, startups, industry consortia to accelerate the growth of AI & Analytics industry and provide comprehensive suite of engage, learn & scale engagements and interventions to our members. 3AI platform have 16000+ active members from students & working professionals community, 500+ AI & Analytics thought leaders & mentors and an active outreach & engagement with 430+ enterprises & 125+ academic institutions.