AI is changing the way doctors think about providing care
3AI March 25, 2021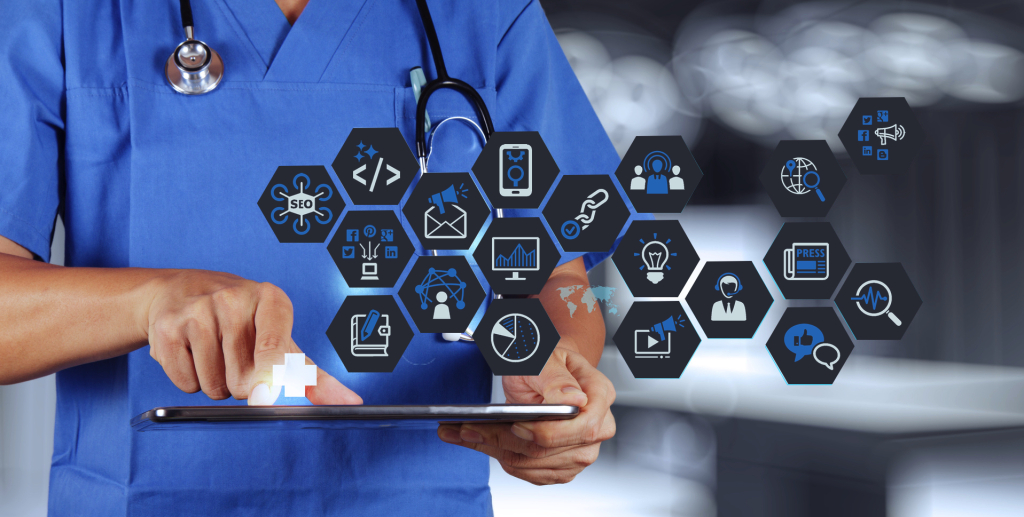 While robots and computers will probably never completely replace doctors and nurses, machine learning/deep learning and AI are transforming the healthcare industry, improving outcomes, and changing the way doctors think about providing care.
Machine learning is improving diagnostics, predicting outcomes, and just beginning to scratch the surface of personalized care.
Imagine walking in to see your doctor with an ache or pain. After listening to your symptoms, she inputs them into her computer, which pulls up the latest research she might need to know about how to diagnose and treat your problem.  You have an MRI or an xray and a computer helps the radiologist detect any problems that could be too small for a human to see. Finally, a computer looks at your medical records and family history and compares that with the best and most recent research to suggest a treatment protocol to your doctor that is specifically tailored to your needs.
Industry analysts IDC predict that 30 percent of providers will use cognitive analytics with patient data by 2018.  It's all starting to happen, and the implications are exciting.
There are several companies developing new programs for imaging and diagnostics. This is an especially promising field into which to introduce machine learning because computers and deep learning algorithms are getting more and more adept at recognizing patterns — which, in truth, is what much of diagnostics is about.
A company called Pathway Genomics is developing a simple blood test to determine if early detection or prediction of certain cancers is possible.
Industry analysts IDC predict that 30 percent of providers will use cognitive analytics with patient data by 2018.
Lumiata has developed predictive analytics tools that can discover accurate insights and make predictions related to symptoms, diagnoses, procedures, and medications for individual patients or patient groups.
Treatment
IBM's Watson has been tasked with helping oncologist make the best care decisions for their patients.  The Care Trio team has developed a three-pronged approach that helps doctors devise and understand the best care protocols for cancer patients.
The CareEdit tool helps teams create clinical practice guidelines that document the best course of treatment for different types of cancers. CareGuide uses the information from CareEdit into a "clinical decision support system" to help doctors choose the right treatment plan for an individual patient. And CareView is an analysis tool that can evaluate the outcome of past clinical decisions and identify patients who received different treatments than the recommendations. This kind of retrospective can help doctors refine their guidelines, closing the circle back to the CareEdit tool.
The team hopes that the Care Trio will improve clinical outcomes and increase survival rates for cancer patients while still reducing treatment costs for providers. The first version is currently being deployed at a large cancer treatment center in Italy.
In a completely different field, Ginger.io is developing an app to remotely deliver mental health treatments. The app allows people to analyze their own moods over time, learn coping strategies that have been developed by doctors, and access additional support as needed.
 Follow up care
But the advances don't stop with diagnosis or treatment.
One of the biggest hurdles in health care is hospital readmittance. Doctors around the world struggle with how to keep their patients healthy and following their treatment recommendations when they go home.
AiCure is using mobile technology and facial recognition technologies to determine if a patient is taking the right medications at the right time to help doctors confirm that the patient is taking their medications and alert them if something goes wrong.
NextIT is developing a digital health coach, similar to a virtual customer service rep on an ecommerce site. The assistant can prompt questions about the patient's medications and remind them to take the medicine, ask them about symptoms, and convey that information to the doctor.
The Caféwell Concierge app uses natural language processing (NLP) to understand users health and wellness goals and then devise and provide the right balance of nudges and alerts so users can meet their targets and the app can reward them.
Mining medical records:
The most obvious application of artificial intelligence in healthcare is data management. Collecting it, storing it, normalizing it, tracing its lineage – it is the first step in revolutionizing the existing healthcare systems. Recently, the AI research branch of the search giant, Google, launched its Google Deepmind Health project, which is used to mine the data of medical records in order to provide better and faster health services. The project is in its initial phase, and at present they are cooperating with the Moorfields Eye Hospital NHS Foundation Trust to improve eye treatment.
Getting the most out of in-person and online consultations:
You have a headache, you feel dizzy and you are sure that you have a fever. Your partner tells you that you do not look great, you should go to the doctor. So, you call the assistant of your GP and ask for an appointment. It turns out you have to wait two more days to get the chance for a visit. Now, this is what's not going to happen with Babylon and its new app. The British subscription, online medical consultation and health service, Babylon launched an application this year which offers medical AI consultation based on personal medical history and common medical knowledge. Users report the symptoms of their illness to the app, which checks them against a database of diseases using speech recognition. After taking into account the patient's history and circumstances, Babylon offers an appropriate course of action. The app will also remind patients to take their medication, and follow up to find out how they're feeling. Through such solutions the efficiency of diagnosing patients can increase by multiple times, while the waiting time in front of doctor's examining rooms could drop significantly.
And this is just the beginning.  As these technologies develop, new and improved treatments and diagnoses will save more lives and cure more diseases. The future of medicine is based in data and analytics.